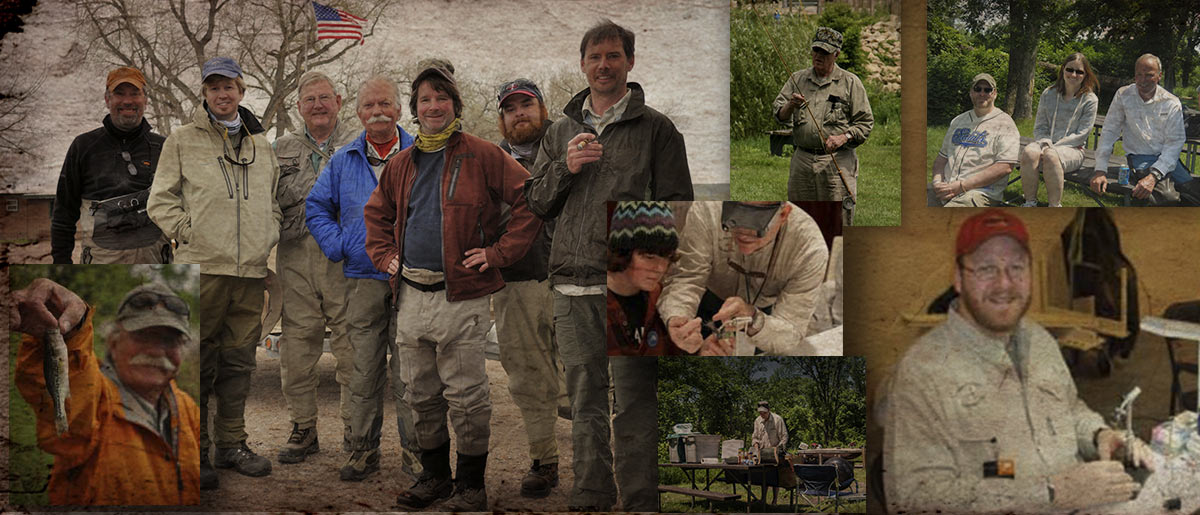 St. Paul Fly Tier's Gatherings
Part of being a St. Paul Fly Tier is an opportunity to meet other fly tiers and fisherman, partake in social gatherings, and attend events that may or may not be sponsored by the club.
:: Club Meetings
Club Meetings start at 7:30 PM on most Thursday nights, in the downstairs banquet room of Gulden's Bar and Grill. We'll share fly tying methods, swap fishing stories, listen to guest speakers, and do a bit of necessary business. The club welcomes anyone who is interested in fly tying and fly fishing. Members will gather for social hour in the upstairs bar for drinks and dinner (your own dime) at about 6:00.
Meeting at Brunson's Pub, East St. Paul May 25th Meeting Venue Changed Thursday, May 25th at  7:30pm-9pm The Thursday May 25th Club meeting will be at Brunson's Pub at 7:30pm. Brunson's is located at the intersection of Case and Payne Ave in St. Paul. There is...
read more
:: St. Paul Fly Tiers Program Nights

The St. Paul Fly Tiers Program Nights at are held on the first Thursday meeting of the month. These are nights on which we leave our bobbins and thread at home and invite guest speakers to share their expertise and experiences on topics related to fly fishing and fly tying.
Scheduled Presenters for the Program Nights at the Clubhouse (1st Thursday of the month at 7:30pm)
:: Club Outings



Nearly every month from March to October, the club organizes a fishing outing. These fishing trips encourage new and old members to explore the wonderful fishing that the Twin Cities area has to offer. Several trips are scheduled for the entire weekend, while others are single day trips to areas near the Twin Cities. Club outings are for panfish, smallmouth bass or trout. We strive for excellent adventure and camaraderie with plenty of good food served to all that participate. More Info>
Next Outing:
Our 2017 outings have come to a close. Please joins us at Gulden's for our November 9th Business Meeting. Bring your ideas for upcoming outings.
read more
:: Other Gatherings on the Horizon

From time-to-time our club is invited to local sports shows, tying events, and social events that members may want to participate in. While we'll do our best to post the things we hear about, please make sure to check at our club meetings for the most up-to-date information. And of course if you hear of something that may be of interest, please make sure to drop us a note at our contact page.
Stop by the Great Waters Expo at Hamline University March 16 -18, 2018 Stop by and see Skip Morris, Landon Mayer and other presenters while supporting Trout Unlimited and the fly fishing community. For more information see: http://greatwatersflyexpo.com/ See...
read more
May 26th Beer Tie: An Evening of Fly Tying at Summit Beer Hall & Patio Calling all Twin Cities area fly fishers and fly tyers! Thursday, May 26th at 4pm-8pm The St. Paul Fly Tiers invite you to Summit Beer Hall & Patio for an evening of hanging out, craft...
read more