This is the place where we'll post member grip-and-grin photos of big fish, unique fish or lifetime bests. Photos can be anything from Brook Trout to Musky, to Tarpon.
If you'd like to submit a photo for consideration, please email us a .jpg photo— with the size, species, date and place caught (Name the body of water, not the specific location. Sorry Tony—the NunYa River doesn't cut it)
All photos must have you in the photo holding the fish (or you and your guide holding the fish).  Be sure to include your name and anything you'd like to say about the photo.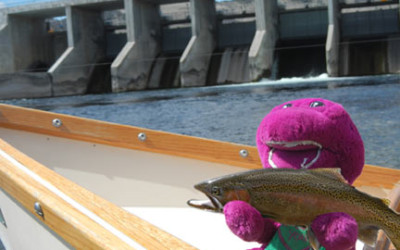 Our friend Barney with a 23" rainbow he caught below the Afterbay Dam on the BigHorn River 23"Rainbow Big Horn River  |   Afterbay Dam   |  April 2013
read more
Stop by the Great Waters Expo at Hamline University March 16 -18, 2018 Stop by and see Skip Morris, Landon Mayer and other presenters while supporting Trout Unlimited and the fly fishing community. For more information see: http://greatwatersflyexpo.com/ See...
read more
May 26th Beer Tie: An Evening of Fly Tying at Summit Beer Hall & Patio Calling all Twin Cities area fly fishers and fly tyers! Thursday, May 26th at 4pm-8pm The St. Paul Fly Tiers invite you to Summit Beer Hall & Patio for an evening of hanging out, craft...
read more